Dallas Paving is one of the leading companies in the residential and commercial concrete services.We have 20 years experience in this industry and provide outstanding services to residential & commercial customers. Based on what your requirement is, we may use pre-cast or poured concrete for outdoor spaces on residential properties. Our designers and project managers ensure you get custom solutions and that the project is completed to your 100% satisfaction.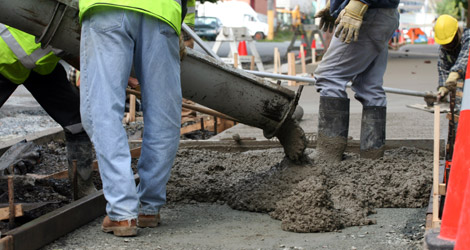 Attention to detail and personalization are the other aspects we focus on and ensure that the final installation is in line with your ideas and vision for your home.
Good concreting is a significant part of any modern construction work. Concrete is easy to shape and finish when it is in liquid form, but its strength and durability after solidifying, makes it a reliable and an important material for any construction. Today, concrete is being used in most commercial as well as residential structures to make the building strong and durable.
Whenever you need concrete on any floor or ceiling of your residential or commercial building, it is best to hire professional concrete services.You can contact Dallas Paving for any such requirements Our highly skilled and experienced workers complete every undertaken job on time, following all safety measures precisely.
Our Services
We offer distinguished residential and commercial concrete services to meet various customer requirements. In residential projects we keep in touch with homeowners, architects and contractors to understand and meet different requirements. Residential work not only has to be strong and durable but also has to look good. Based on your requirement, we use pre-cast or poured concrete to achieve a neatly finished surface.
Concreting in commercial settings such as factories and other large buildings, require higher amount of durability and strength than in residential settings. Heavy load is usually shifted from place to another in a commercial space, and the floor must be capable of withstanding that wear and tear. With our advanced techniques and equipment, we are capable of offering the most reliable concreting services for your commercial setting, no matter how big or small the area of application is.
Why Choose Us?
Experienced and vetted company
All workers are insured and certified
Highest-grade materials used
Follow all safety measures
Pre-project consultation & feasibility test conducted
Timely job completion
100% customer satisfaction
Competitive pricing