Interlocking stone can turn a simple path or driveway into an elegant home feature. It can enhance property value and curb appeal, instantly creating a unique aesthetic while providing a strong return on investment.
Dallas Paving utilizes a skilled team of knowledgeable workers to provide a reliable set of interlock services. For more than two decades, we have handled interlocking stone projects for both commercial and residential customers, and we're proud of our results.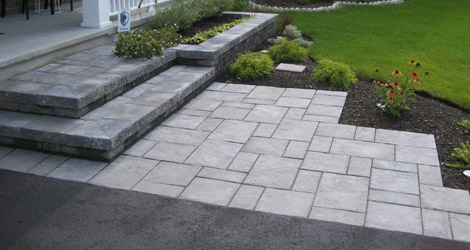 We use the best available materials and a meticulous planning process to give every project a professional finish.
Our interlocking services include:
Driveway – Don't settle for your old, cracked driveway. Our professionals can break and remove your old, unsightly driveway and install a beautiful new concrete driveway that you can be happy to drive up to every day. We specialize in concrete driveways, and we can replace or extend any driveway of any size.
Patios – A patio adds beauty and charm to any living space. We will recreate a look for you that will be a joy to use and admire every day. Our contractors are committed to completing every project in a timely and professional manner.
Walkways – A concrete or paver walkway will bring long-lasting beauty and immediate curb appeal to your property. Our professionals will interlock the walkways to give that perfect finish. We'll bring our extensive experience and skills to complement your ideas and style.
Retaining Walls – We specialize in a variety of retaining walls, including paver, brick and stone. The purpose of a retaining wall is to restrain soil, and drainage is an important aspect of achieving that goal. We have the right tools and expertise to build a long-lasting retaining wall that does its job properly.
Parking Lots – Your parking lot is a reflection of your business. If it's covered with cracks, bumps and other inconsistencies, customers will notice — and regardless of your industry, first impressions are extremely important. With more than 20 years of experience, we provide our clients with extraordinary consistency and efficiency.
Flagstone – Our staff of highly-trained professionals treat every job with the exceptional care it deserves, working with you to ensure that our interlocking solutions fit your specific needs and goals. Interlocking isn't a one-size-fits-all service; it's customized to fit precisely what you need.